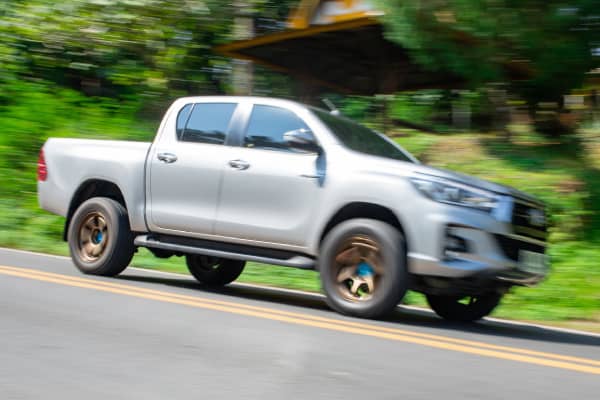 Located in Prince George, British Columbia, Rivers Edge Services boasts an outstanding team of technicians specialized in truck maintenance and repairs. From light-duty trucks and pickups to medium-duty trucks, we offer timely, efficient, and cost-effective services that will help you get back on the road in no time.
Reliable Truck Services by Industry Professionals
4x4 & Pickup Trucks
Air Filters & HVAC Repairs
Brake & Suspension Repairs
Differential Rebuilds
Electrical & Charging Issues
Engine Repairs
Exhaust & Emission Systems
Frame, Alignment, & Steering
Fuel Injections
Liftgate Repairs
No Start Diagnostics
Radiator & Cooling
Transmission Repairs
Truck Tire Services
Preventative Maintenance for Your Truck
Battery Fluid
Brake Fluid
Engine Coolant
Engine Oil
Fuel Filters
Power Steering Fluid
Tightened Nuts and Bolts
Transmission Fluid
Tune-ups and Oil Changes
Vehicle Inspections - Trucks
Light-Duty vs. Medium-Duty Trucks
Trucks generally have a much larger build than most residential and family cars. Most trucks are categorized according to their Gross Vehicle Weight Rating (GVWR), which measures a vehicle's total weight capacity, including the combined weight of its cargo, passengers, and the weight of the vehicle itself. This classification assists with determining a truck's purpose, capabilities, and the regulations it must follow.
Light-Duty & Pickup Truck Repair
The following are classified as light-duty trucks:
Light light-duty trucks: GVWR up to 3,856 kg | GVWR up to 8,500 lbs
Heavy light-duty trucks: GVWR over 3,856 kg | GVWR over 8,500 lbs
Predominantly used for personal transportation and light commercial purposes, light-duty trucks have moderate towing and payload capabilities. They remain ideal for towing small trailers and boats, transporting home-improvement supplies, or performing small cargo jobs. While they are typically powered by gasoline engines, diesel options are also readily available on the market.
Some of the most popular pickup trucks in Canada, including the Ford F-150, Chevrolet Silverado 1500, GMC Canyon 1500, Ram 1500, and Toyota Tundra, are classified as light-duty trucks. Additionally, most SUVs and vans also fit under this category. For most pickup trucks, a standard driver's license is usually sufficient for road operation. No matter the make or model of your truck, the specialists at Rivers Edge Services will help you restore your vehicle to its optimal condition.
Medium-Duty Truck Repair
The following are classified as medium-duty passenger vehicles:
Medium-duty trucks: GVWR between 3,856 to 4,536 kg | GVWR between 8,500 to 10,000 lbs
Medium-duty trucks are commonly used for commercial purposes, such as local deliveries, towing, utility services, and some specialized trades. Box trucks, larger cargo vans, city delivery trucks, smaller flatbed trucks, and dump trucks typically fall into this range. These trucks generally come equipped with stronger diesel engines compared to their light-duty counterparts, offering enhanced payload and towing capabilities.
Based on their precise weight and functionality, a specialized commercial driver's license (CDL) may be necessary. Each Canadian province has its distinct requirements, regulations, and classifications for commercial vehicle licenses. Rivers Edge Services excels at performing repairs and maintenance services for most types of medium-duty trucks.
Truck Tire Service and Care
Navigate Western Canada's vast roads with unwavering confidence! We offer truck tire guidance and other recommended services tailored to your vehicle's make, model, and needs. By adhering to factory standards and precise wheel alignment, we help you prolong your tire's lifespan and ensure optimal driving performance. Trust our team's expertise and visit Rivers Edge Services for the best truck tire services in Prince George, British Columbia.
Prince George's Trusted Local Truck Repair Shop
Our certified mechanics are highly familiar with the challenges faced by most trucks, especially when it comes to prolonged road use. At Rivers Edge Services, we cater to both everyday drivers and commercial transports. We only use genuine parts for replacements, ensuring longevity and peak performance for every truck we service. Extend the longevity of your truck with our services—call 250-562-5999 to schedule an appointment with us today!